FREE SHIPPING on ALL orders $99 or more.* That's right. When you spend $99 or more on your order the shipping is on us! *Offer valid in the contiguous U.S.
*Order by 2pm EST all "In-Stock" items will be shipped out the same day (all backordered, special order or splicing products may not ship out same day). Orders placed after 2pm EST will ship out the next business day.
**All shipping days are "Business Days". Weekends are not included in transit times.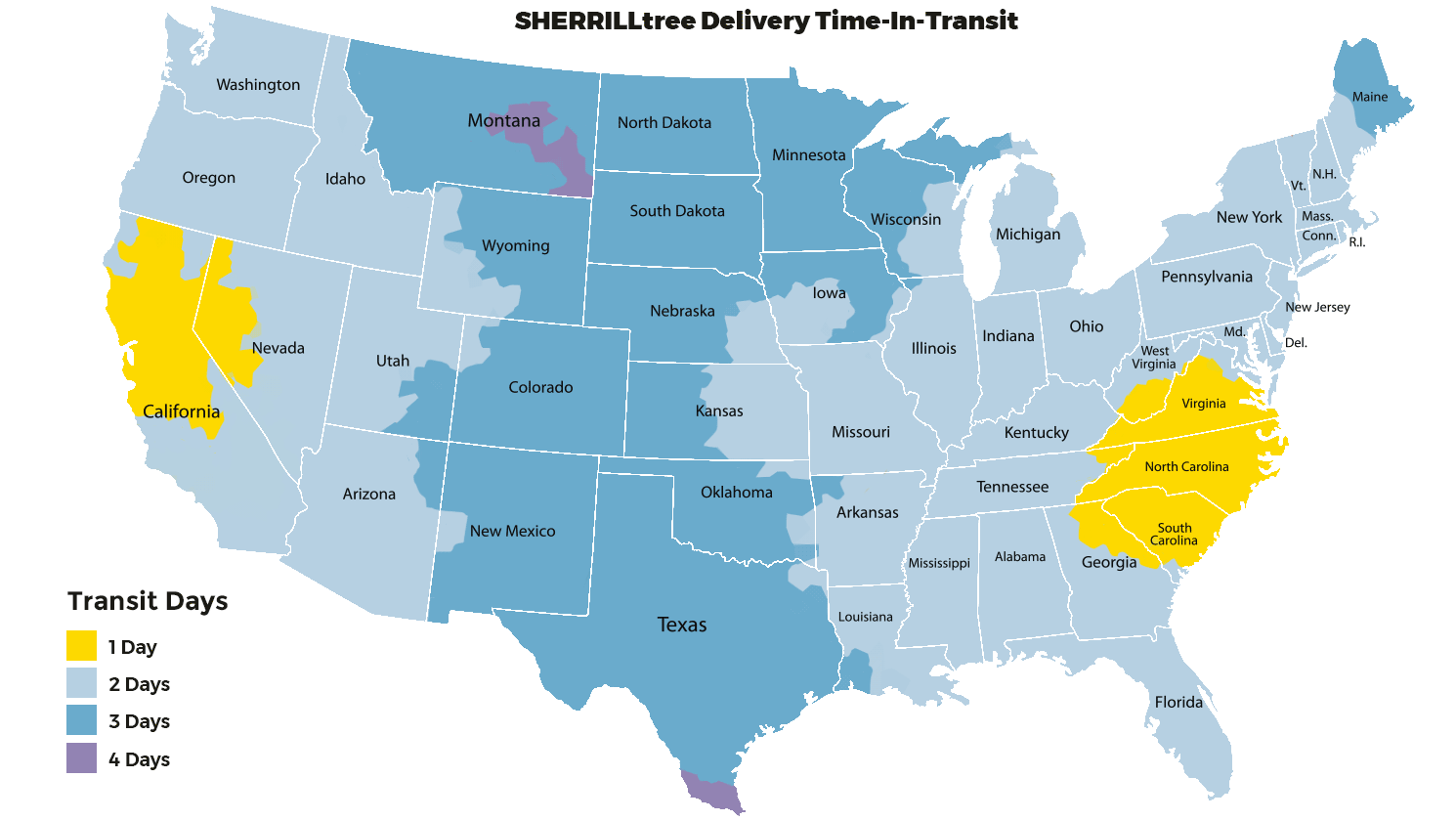 ---
RAPID DELIVERY "Next Day Air" or other special delivery methods require payment in advance (credit card, check or money order received prior to shipping) or an open account status, no C.O.D's.
THE BEST SHIPPING RATES are applied to all orders at SHERRILLtree, regardless of where or how you buy! For over-sized or heavy weight items not receiving FREE SHIPPING we will apply the least expensive shipping and handling fees possible, and through a trustworthy carrier. That is our promise!
OUTSIDE USA DUTIES AND TAXES for international orders are to be paid by the customer. If refused, the customer will be responsible for any duties and/or freight paid by SHERRILLtree Inc., as well as any "abandoned merchandise" charges. Sales tax is applied to all U.S. orders.
THE FREIGHT CHART on the order form is for the continental U.S., prepaid mail and fax-in orders only. This usually covers our shipping costs but is measured on an average basis. Freight charges are determined by weight, and rarely match the chart exactly. We reserve the option to reject a mail-in order's freight rate as circumstances occur.
HEAVY WEIGHT ITEMS such as cable, fertilizer, rope, liquid chemicals, etc. can create higher shipping costs. Therefore, the freight chart does not apply to orders containing these items. Exact shipping cost cannot be determined until the weight is totaled and calculated against your shipping zone at the end of the day. International shipments are quoted on an individual basis, depending on destination, weight and dimensions.
OVERSIZED PACKAGES Due to new UPS regulations, the shipping charges for oversized packages (such as poles, elongated power tools, and log dollies) will be higher then normal shipping costs. If you have any questions about these changes and their effect on your costs, please ask our customer service representatives, available Mon-Fri from 8 a.m.-6 p.m.
PLEASE NOTE: If you have HEAVY WEIGHT/OVERSIZED product(s) in your order, the entire order will ship UPS GROUND, these items DO NOT qualify for Free Shipping. If you would like items that are not heavy weight/oversized to be shipped FREE 2-DAY, please place a separate order for these items, be sure that your order is over the $99 threshold to qualify.
---
---