Brand Spotlight

Clogger

Sherrilltree Team

Dec 16th 2019
SHERRILLtree recently spoke with the founder and owner of Clogger (@cloggernz) Lincoln Smith, about his business in Clogger and its future.
When did you start Clogger?
1994.
What were you doing prior to establishing Clogger?
Making horticulture gear to make harvesting easier and more efficient.
How far has chainsaw protection technology come since 1994?
When we first started making chainsaw protective garments, we were using off-the-shelf fabrics made entirely from basic synthetic fibers, like polyester and polypropylene. These worked solely on the principle of fibers pulling out and clogging the sprocket area of the saw. As we learned more about the industry and its needs, we began to look into getting fabrics made specifically for Clogger products that had higher performance levels with less weight.

With chainsaws becoming increasingly more powerful and faster, the standards were updated to provide better protection, which meant that even higher performing fabrics were needed. To meet these upgraded standards, we started experimenting with incorporating cut-resistant fibers into the fabrics, resulting in the development of our Arrestex HP material. This fabric has a dual function, in that it actually resists cutting while those fibers that do pull out still have that clogging action. Alongside of Arrestex HP is our Arrestex FR fabric — which was specifically designed to be 100% fire-resistant — meeting the needs of utility arborists and wildland firefighters.
What is your favorite Clogger item?
The Clogger Zero pants. They make a big difference in performance, from heat management and range of motion. We do everything possible to make the Zeros safer for the customer.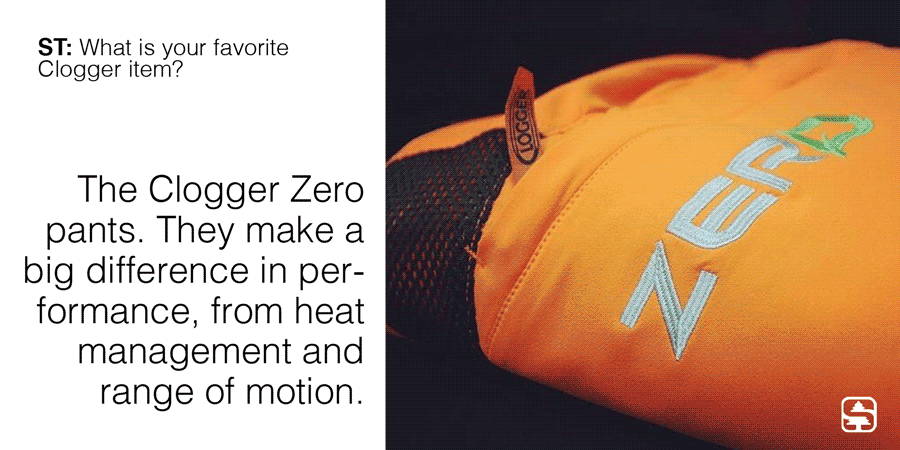 What is the #1 item in the Company?
The Clogger Zero continues to be our #1 item. It transformed the company and is the halo piece of the entire Clogger line up. The 2nd generation Clogger Zero is now it its 3rd year and continues to sell very well.
What is Clogger's role in the innovation in the chainsaw trousers market?
We are focused on always raising standards. That's where our "advancing your guard" brand statement comes from.

The "standard" refers not only to safety but also comfort and design. As one of the few manufacturers focused only on chainsaw protection, we have a unique ability to create and evolve product based on direct user feedback. Having everyone from marketing and R & D through to cutting and fabrication under one roof is a big advantage when you have this level of focus on constant improvement.

For example, we created the Zero chainsaw pants for Australian climbers struggling with heat. Almost every aspect of the trousers were reinvented based on the goal of creating a product cool and light enough to work in hot conditions while still exceeding safety standards. Once launched, the product was immediately improved cumulating in the launch of the Gen2 version. We are constantly reviewing new fabrics globally as well as assessing our design and production approaches all based on what users are telling us. Our focus also allows us to develop products for specific user group like DefenderPRO for ground workers and Arcmax for utility workers. Specialized products result in a better fit with user needs. We take this same "raising the standard" philosophy to the development of all our product lines.
What's next for 2020?
Introducing the rest of the Clogger range to the United States market. Clogger has one of more comprehensive range of chainsaw protection globally. In pants, we have the light and cool Zeros but also the all season Ascends, DefenderPRO for ground workers and Arcmac arc-rated, FR pants for work around lines and wildfires. We also offer Zero, DefenderPRO and Arcmax chaps. There is a lot more to Clogger than Zeros!
What else is new for 2020 and beyond?
We will be launching Clogger Denim (chainsaw jeans), Clogger boots, Zero chainsaw jackets and cold weather pant currently being trialed in Antarctica. In the upcoming seasons, you can expect Clogger chainsaw apparel to get lighter and cooler with more innovation in terms of better technologies and designs.
Can you provide any additional information on the Clogger Denim (chainsaw jeans)?
This project is one of a number of new products that Clogger is developing, which we expect to be able to release in mid-2020. The outer fabric used is not just an ordinary cotton denim, but is made using a high percentage of polyester with spandex to provide some stretch function. We see it appealing to the forestry and the arborist groundcrew market, so we haven't created a climber's version as yet. Watch this space!
Where is your biggest sales opportunity?
The United States is our biggest sales market right now, in both the summer and winter gear. We're very active in the United States, both by supporting tree climbing competitions and working closely with our retail partners. It's been great getting to know the United States arborist community.
How do you feel about American customers calling them pants, as opposed to trousers?
At first it was strange to talk about pants, because here in NZ, pants refer more to underwear! However we have got used to the term and are slowly trying to educate ourselves to stop using the word 'trousers' and to use 'pants.'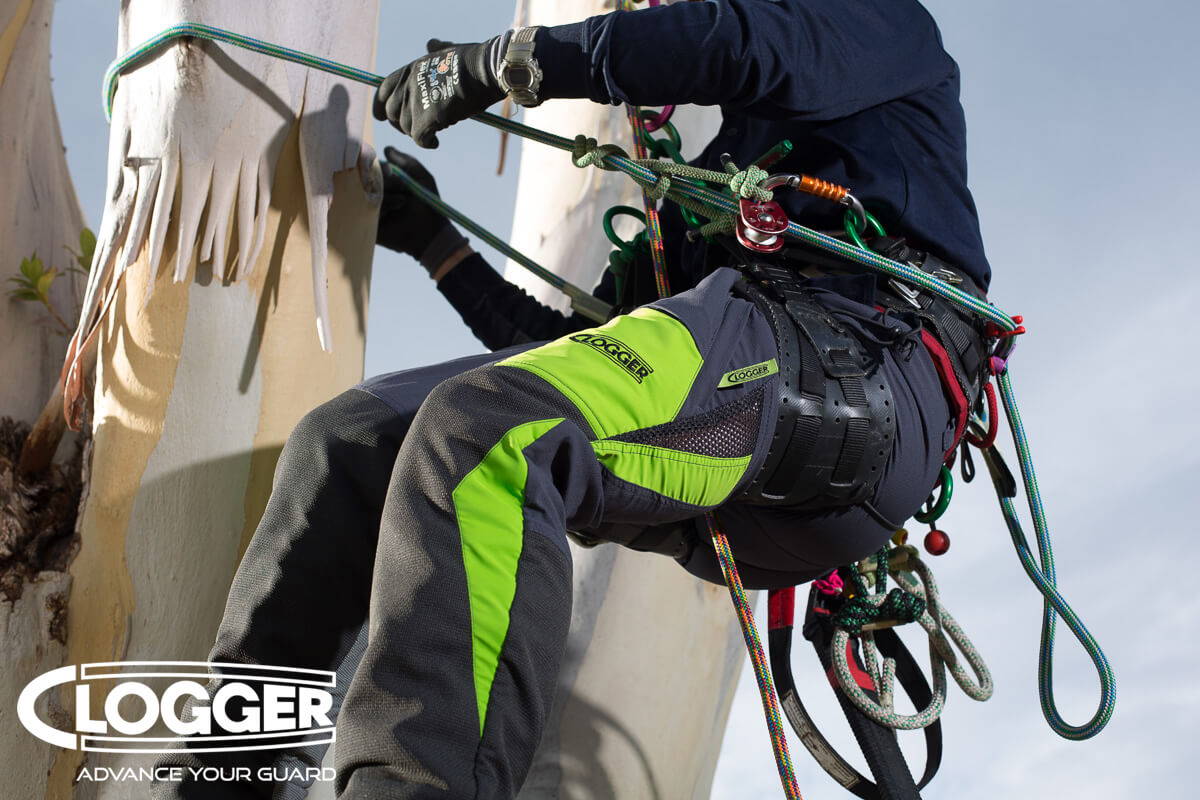 Thanks, Lincoln, for taking the time to talk to us! We love following Clogger @cloggernz on Instagram for information about your products, people, and New Zealand native trees and plants!
---