TFTC #14

Are chainsaw pants worth the expense?

Brandon Nance

Sep 30th 2019
Have you noticed, over the last couple years, chainsaw protective pants rising in popularity? No longer are we limited to super heavy, thick, and extremely hot options. Those options are still available, but many new options have hit the market that have been designed and tested for the tree care industry. With these new designs and models comes the opportunity to comfortably add protection to the job site, whether on the ground or in the tree.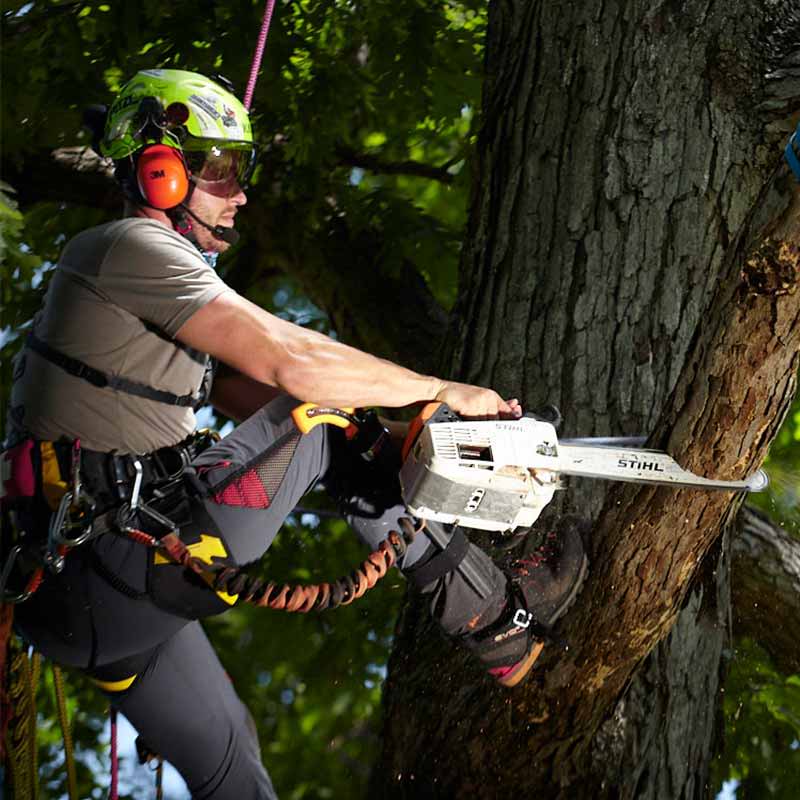 Referencing ASNI Z133-2017, we find that chainsaw protective pants are not mandatory while working aloft in the tree and operating a chainsaw. However, it is mandatory when working on the ground and operating a chainsaw. Even though it is not mandatory within the Z133, given the many options available to us today, why not incorporate another level of protection while in the tree?
"How hot are they?" is one of the first questions people ask when looking to buy chainsaw protective pants. During the design process, many manufacturers look at likely the number one complaint: heat. These new models have sought and found solutions to this problem, and provide top-level protection in a comfortable and much cooler final product.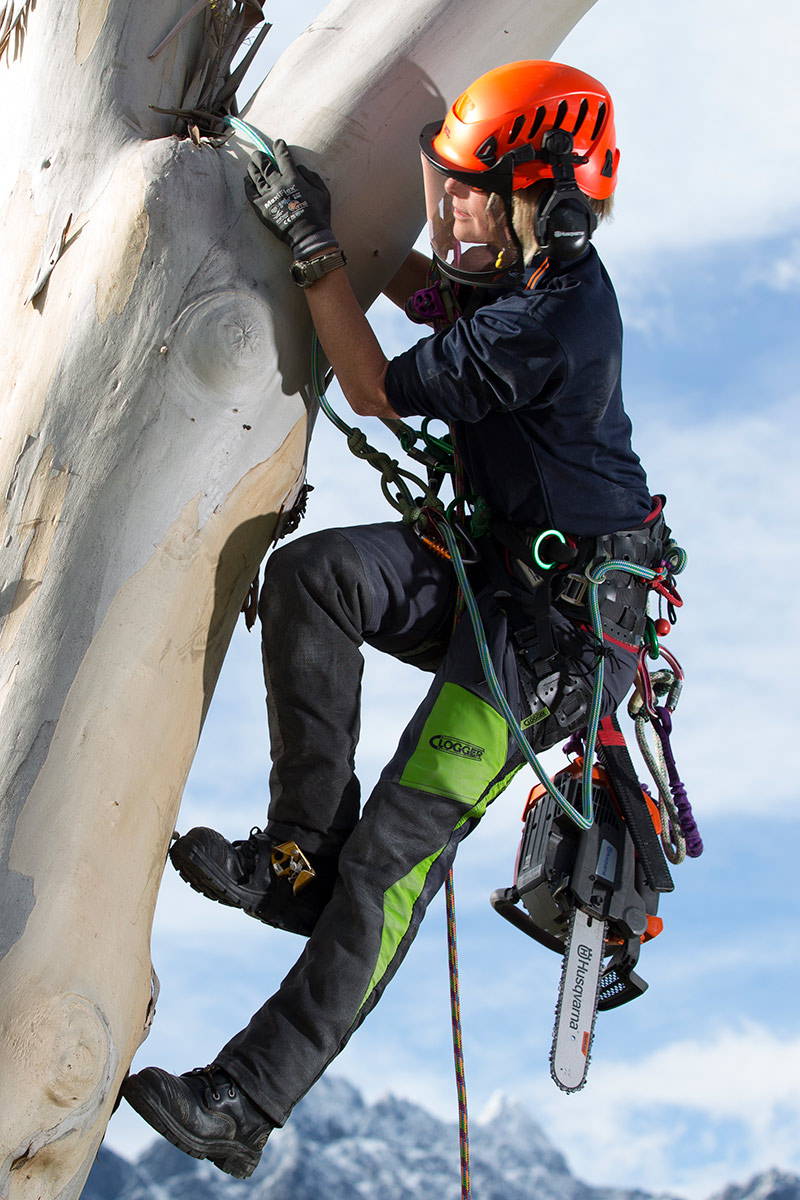 Zenitec – a protective clothing company located in New Zealand – are the creator and manufacturer of the popular Clogger Zero Chainsaw Pant. These pants weigh in at only 2lbs 3oz, use Arrestex HP chainsaw protection material, and utilize Nilit® Breeze yarn, which is proven to reduce body temperature. They use 4-way stretch fabric for greater freedom of movement and flexibility. Abrasion resistance fabric over the knees, inside the calf and ankle areas provide durability while in the tree or on the ground.
There are many other great features and benefits, but the one that provides the solution to the problem of heat are the strategically placed mesh vents. These vents allow hot air to escape away from the body providing a decrease in body temperature. The vents combined with the low weight and breathability of the outer layer provide one of the coolest pants on the market.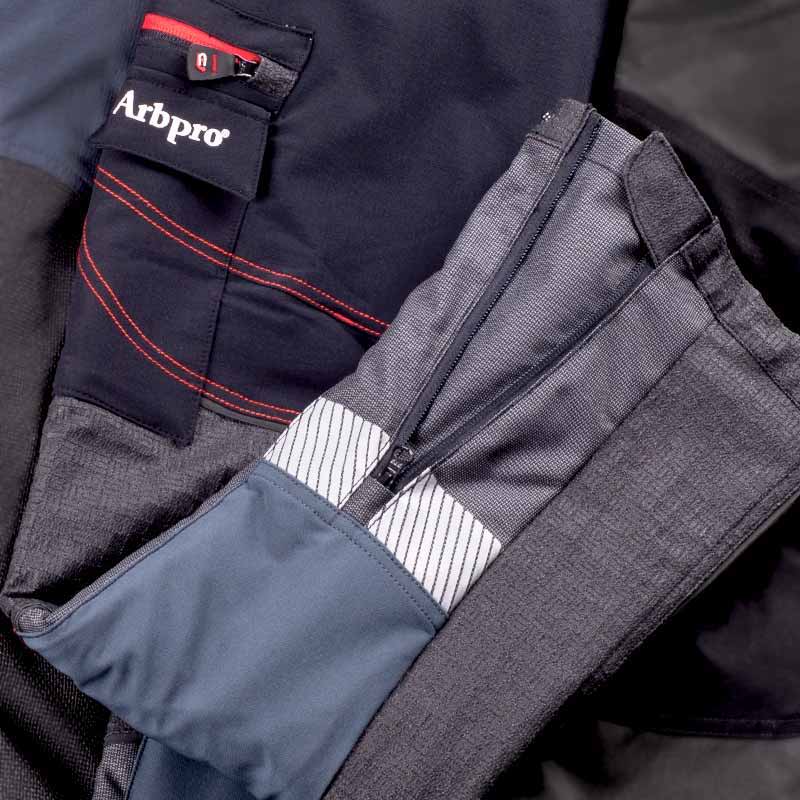 Italian-based company Arbpro (well-known for numerous products, including the Clip N Step and EVO 2 boots) have delivered a well thought-out and properly executed the chainsaw protective pant: The Arbpro Gamma Chainsaw Pants. Designed for the arborist with a great attention to detail, these pants feature high-quality Swiss fabric Schoeller Keprotec® and abrasion resistance, 4-way stretch fabric, making flexibility and movement a breeze. The slim design and light weight provide a very comfortable and cool chainsaw pant. They achieve ventilation with zippers on the back of the legs and they also provide detachable gaiters. These pants not only look good – they are some of the most comfortable pants available.
Another great option are the Arbrotec Breatheflex Pro Chainsaw Pants. Available in multiple colors and certainly one of the coolest looking pants out there, the Breatheflex line features the strong and lightweight Dyneema® and Kevlar® materials providing ruggedness without sacrificing weight. Formed knees and stretch material on the outer provide increased mobility and flexibility to the user. To minimize heat, the Breatheflex Pro features zippered vents along the legs for great ventilation.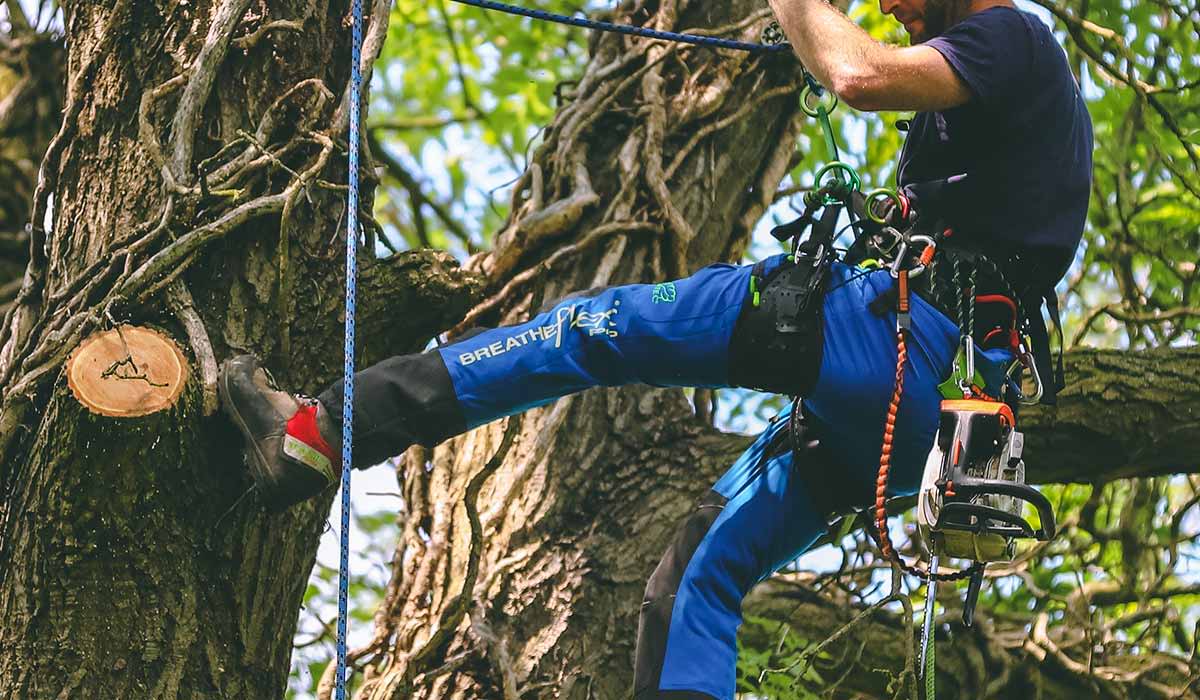 Arbortec Breatheflex Pro Chainsaw Pants
Notch has stepped up their game as well with the Notch Armorflex Chainsaw Pants. These lightweight chainsaw protective pants use 5 layer Avertic™ Engtex high performance protective fabric and 4-way stretch for mobility and flexibility. The Notch Armorflex pants weigh in at 2.2 lbs. and feature mesh vents on the back of the legs to allow ventilation of heat. Knee protection is accomplished using Armortex® abrasion resistant material which feature DuPont®Kevlar® fibers. As with other models, the Notch Armorflex pants feature zippered pockets.
There are many more options available from other manufacturers offering comparable level of protection and heat management, however all of the models above are great options for chainsaw protective pants and all minimize the heat associated with chainsaw protection.

After heat, the second concern is generally regarding price. Yes, these options are going to cost more than models from years past. However, there are a few other factors to look at before dismissing modern chainsaw protective pants simply based on price.
When comparing chainsaw protective pants to chaps, it's easy to see the difference in not only in the product itself, but also the price. Chaps are certainly going to have a lower price point, and although they are less expensive and do meet the standards, the issue that often comes up is: How likely are people going to put them on while on the job? You certainly aren't going to wear them while climbing. This question has been popping up more and more, so often lately, in fact, that many tree care companies are moving to pants instead of chaps for all of their workers to ensure chainsaw protection is used at all times.
Many tree care companies are moving to pants instead of chaps for all of their workers to ensure chainsaw protection is used at all times.
At first, it might seem odd that an arborist staple like chaps are being replaced. However, when you begin to look at the effectiveness of chaps, it brings up some interesting points. When I refer to effectiveness, I'm not implying that chaps don't provide protection, because their testing obviously proves otherwise. What I mean is they cannot be effective if people don't wear them or if they don't fit properly. What makes chaps great is they can easily be put on and taken off, meaning you are not stuck wearing them all day. This is especially nice, considering chaps tend to be more restrictive when compared to chainsaw protective pants and especially non-chainsaw protective pants. Although this can be viewed as a strength, it can also be viewed as their Achilles' heel.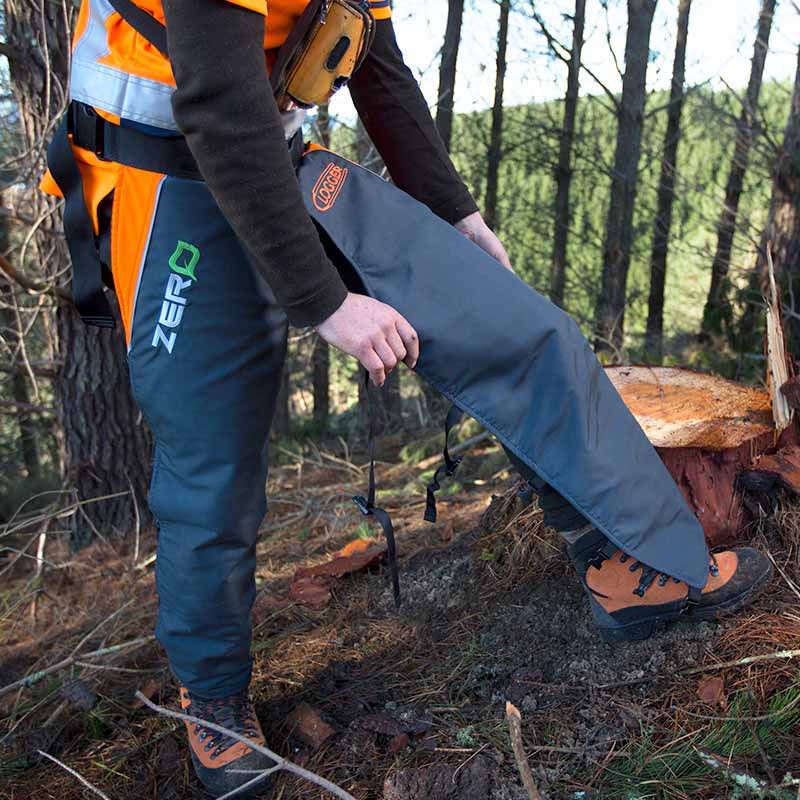 Many companies have recognized that the ability to remove the chainsaw protection in reality leaves their employees at risk.
How many times has there been one last cut to make, and you or someone you know decided it wasn't necessary or worth the time to walk back to the truck to get the chaps? You make the cut without protection, move the piece to the chip truck, clean up for the day, and head back to the shop.
Or have you ever needed a pair of chaps only to discover the only ones available are about 10 inches too short, but you use them anyway thinking the chaps at least have you covered when it comes to the standards. In these scenarios, are we in fact welcoming an unnecessary "accident" on the worksite?
This has jumpstarted a new way of thinking. Wearing chainsaw protective pants prevents you from taking off the protection anytime throughout the day – and combined with new, strong materials and innovative designs that greatly reduce the heat, chainsaw pants are becoming a much more popular means of chainsaw protection. And, although it is not required while working in the tree, if all these options are available, then why would we not take it upon ourselves to add the protection while in the tree? We are ultimately responsible for ourselves AND everyone else on the worksite, so if protection is available, why not utilize it!
This time of year, in the Northern hemisphere anyway, temperatures are beginning to drop, and the issue of heat begins to diminish. If chainsaw protective pants are something you have been thinking about, but heat has been the driving factor in your decision to not invest in chainsaw protective pants, then this may be the perfect opportunity to try them out.
---